Stonex 2" Electronic high accuracy Theodolite
STT402L offers the opportunity to challenge high-precision monitoring and engineering works. Thanks to its absolute encoder, angle measurements are saved when STT402L is switched off. Low power consumption gives more than 80 hours working time. Unlike other instruments that use only AA battery, STT402L offers the options to use the Li-Ion rechargeable battery or standard AA battery. The dual axis compensator with 1" accuracy ensures reliable measurements on every kind of terrain.
In addition, the large ergonomic keypad and the backlit LCD display allows the Surveyor to be extremely productive in the field works. Also the reticle is illuminated permitting to work inside tunnels and buildings. By pressing one key STT402L converts vertical angles to percent of grade, locks the horizontal angle, resets the horizontal angle to zero offering the possibility to reposition or repeat a measurement.
The continuously reading program with average calculations gives a 100% error free reading on both the circles. Stonex STT402L comes with a complete set of accessories including the carrying case, battery and charger, adjusting tools.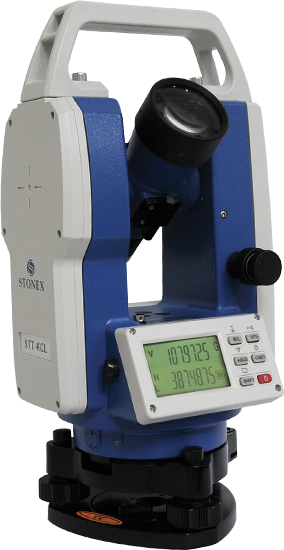 Benefits
Uses both Li-Ion rechargeable and AA battery
All purpose instrument, suitable for any kind of field work
Ergonomic keypad and backlighed LCD display
Easy to use, most of the functions with one key
IP 55 water & dust protection